This is the bottom slider area. You can edit this text and also insert any element here. This is a good place if you want to put an opt-in form or a scarcity countdown.
Customer Resources (Bookmark This Page)
Congratulations on Your New WeedFreeGarden
These Are the Items You Need to Grow Tons of Food in Your New Garden – Pick Them Up Cheap
NOTE: the Assembly Videos are Further Down This Page
Nutrient Solution
This is a must have. These are the main nutrients that the plants eat in the water in the Grow Boxes. Approximately 25 pounds is 10 years worth for the 99 model. However, I recommend buying in bulk and saving money. Plus, having this nutrient solution on hand allows you to garden when there are problems with the supply chains.
This is the powdered solution: https://amzn.to/3iDpanW
Super Nutrition for You and Your Plants
Since our families are eating the plants that we grow in the WeedFreeGardens, it is possible to boost the nutrients, minerals, vitamins to a very high degree. Higher than any of the fruits and vegies at the grocery store. This is not manditory, but if we are growing, why not make the very best tasting vegies and highest quality mineralized plants around?

(Remember, whatever you put into the WeedFreeGarden Grow Boxes are available directly to the plant roots. All the nutrients that are put in go to the plant roots and nowhere else. None wasted.)


Full Spectrum 92+ Sea Solid Minerals That are 100% Dissolvable in Water
We used to use a variety of rock dusts to acheive mineralization of our plants. NO MORE. 
Now we just use ONE teaspoon per gallon of full spectrum sea solids containing 92+ minerals in dissolved state in water in the growboxes. That is way more minerals than any rock dust can provide. And it fully dissolves in the water allowing ALL THE PLANT ROOTS to take up the minerals to mineralize the plants. We used to grow plants with just the fertilizer above. Now, we would never grow ANYTHING without these 92+ minerals. (Even the front lawn and the hanging baskets on the front porch.)
Get Them Here: https://buying.thrivecart.com/wfg-sea-solids-fertilizer/
Plant Holders 
These hold the plant upright. There are 2 types. These plant holders will fit into the direct holes of the Grow Boxes. However, I put these plant holders into Net Cups (see below) 
Pool Noodles – These are the cheapest. Less than $0.07/ pool noodle. They will have to be cut using scissors. Also, the pool noodles will last about 2-3 plantings. Then they will be destroyed.

Best place to buy Pool Noodles is The Dollar Store in your local area. $1 per big noodle.

Or on Amazon.com
NEVER USE Cloning Collars – These cost more too. We ran a test in the Spring of 2023 that showed directly that the industry standard cloning collars (Neoprene) gives plants stem rot and will stunt their growth. 
See the test here: https://myweedfreegarden.com/wp-content/uploads/2023/07/Cloning-Collar-Test.pdf
NOTE: As gardeners ourselves and as a company we are directly working on a replacement for cloning collars that will work better, be much more functional, and longer lasting. The pool noodles are only temporary. Currently they are the best, and they won't harm plant growth, as far as we have tested.
Never Use Cloning Collars
Net Cups
These are useful to hold the plant roots if you are growing medium sized plants. They allow for the ability to lift the plant out of the Grow Boxes and put it back easily. Net Cups are not mandatory, but they don't cost much. They last forever and are re-useable. Net Cups are extremely helpful. I use them. The Plant Holders fit into the Net Cups.
35% Food Grade Hydrogen Peroxide 
This solution helps to keep down any slime, mold, fungi, algae in the Grow Boxes. I put in 3-5 dropper-fill squirts into each 5 gallon bucket of water. The plants like the Oxygen in the water too. It encourages plant growth via oxygenation of the roots.
The standard 2% "brown bottle" H2O2 in the supermarket will work too. You'll just have to add more to your Growboxes.

BUT, I really like to show cool stuff that I have used. Thus, the 35% Food Grade H2O2 can be used for SOOO MUCH MORE. See the book, "Flood Your Body with Oxygen" by Ed McCabe

35% Hydrogen Peroxide Here: 

https://bulkperoxide.com/35-food-grade-hydrogen-peroxide/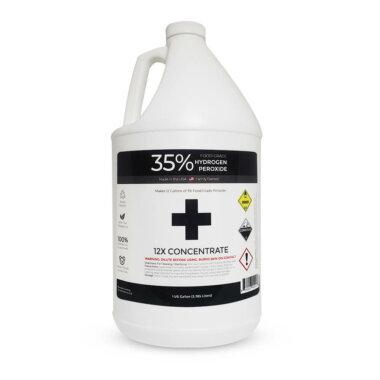 Sprouting Containers and Seeds 
Store-bought plants can be used. However, a more self-sufficient approach is to sprout all your seeds and then move them into the Grow Boxes. I use sprouted seeds, then I know the plants are hardy. However, if you are a current gardener and if you have your own seeds and know how to sprout, then these materials to sprout seeds won't be needed for you. However, if you are new, then these materials will be needed.
Seeds – Buy seeds of any plants you would like that will fit in the Grow Boxes. Remember, to choose your plants wisely. (Like: Don't try to put root crops in Grow Boxes meant for above ground growing.) (Root crop grow boxes coming soon)

Organic, non-terminator seeds – These are seeds that will also grow new seeds that can be spouted again. Most seeds at Walmart are terminator seeds and will not grow new seeds. Be alert to that.

Like These Seeds:

https://amzn.to/3j8rPGg

Sprouting Containers – Any container that will hold the seeds

(I use this Sprouting Container in the Sprouting Video below)
Chamois (pronounced "shammies") – These are like advanced sponges. They can be used to wick water up from a water basin to where the seeds are.
The Assembly Videos
Watching a step-by-step assembly video is very nice to see a real human assemble the product in real time.
So, I made assembly videos for you.
Located here:

The only 3 items you'll need are:
Electric screwdriver

In these assembly videos, I used an inexpensive drill/driver from Harbor Freight.




Just about any electric drill/driver will do.

#2 Phillips head bit – a length extender may help.

A table is helpful just to keep you off the ground.


How to Plant, Sprout, and Water a MyWeedFreeGarden
This planting video shows how to plant your new MyWeedFreeGarden. (It is very easy) 
https://rumble.com/v1d1s0n-wfg-sprouting-planting-and-watering.html

Thank You for Your Order. Enjoy the Good Food With No Weeds…Ever.